Safety and Rescue Training Worldwide
Receive training at one of Tech Safety Lines' training facilities in the United States, on-site, or with a TSL Authorized Training Partner worldwide.
Blade Repair
With an unwavering focus on elevating industry safety and standards, Tech Safety Lines' Blade Repair Training Center will cater to both seasoned technicians seeking to enhance their expertise and newcomers looking to embark on a rewarding career in blade repair.
View All Courses
TSL Training
Provide your company with the confidence and education needed to be safe in the field with Tech Safety Lines. Tech Safety Lines' proudly utilizes members of the Dallas Fire Department's Technical Rescue Team and Urban Search & Rescue as instructors for our safety training courses. These experienced and certified professionals bring real-life simulated situations to our curriculum and make the environment fun, hands-on, and applicable.
Wherever you are, TSL trainers come to you worldwide. Join us solo or as a team at our prestigious 40,000 sq. ft. Dallas, TX facility. For added ease, our Authorized Training Partners across North America, Europe, and the Middle East offer TSL training, ensuring excellence is always within reach.
All Tech Safety Lines, Inc. rescue training programs meet or exceed OSHA and ANSI Z359.2-2017 regulations and safety standards.
GLOBAL TRAINING & EQUIPMENT POLICY: Tech Safety Lines, Inc. (TSL) only sells our patented equipment to those that have successfully completed training, either directly from a TSL instructor, or by a TSL Authorized Instructor for their own internal training, or by a licensed 3rd party training company. Wallet cards are not transferable from company to company and are only valid for the employer listed on the wallet card.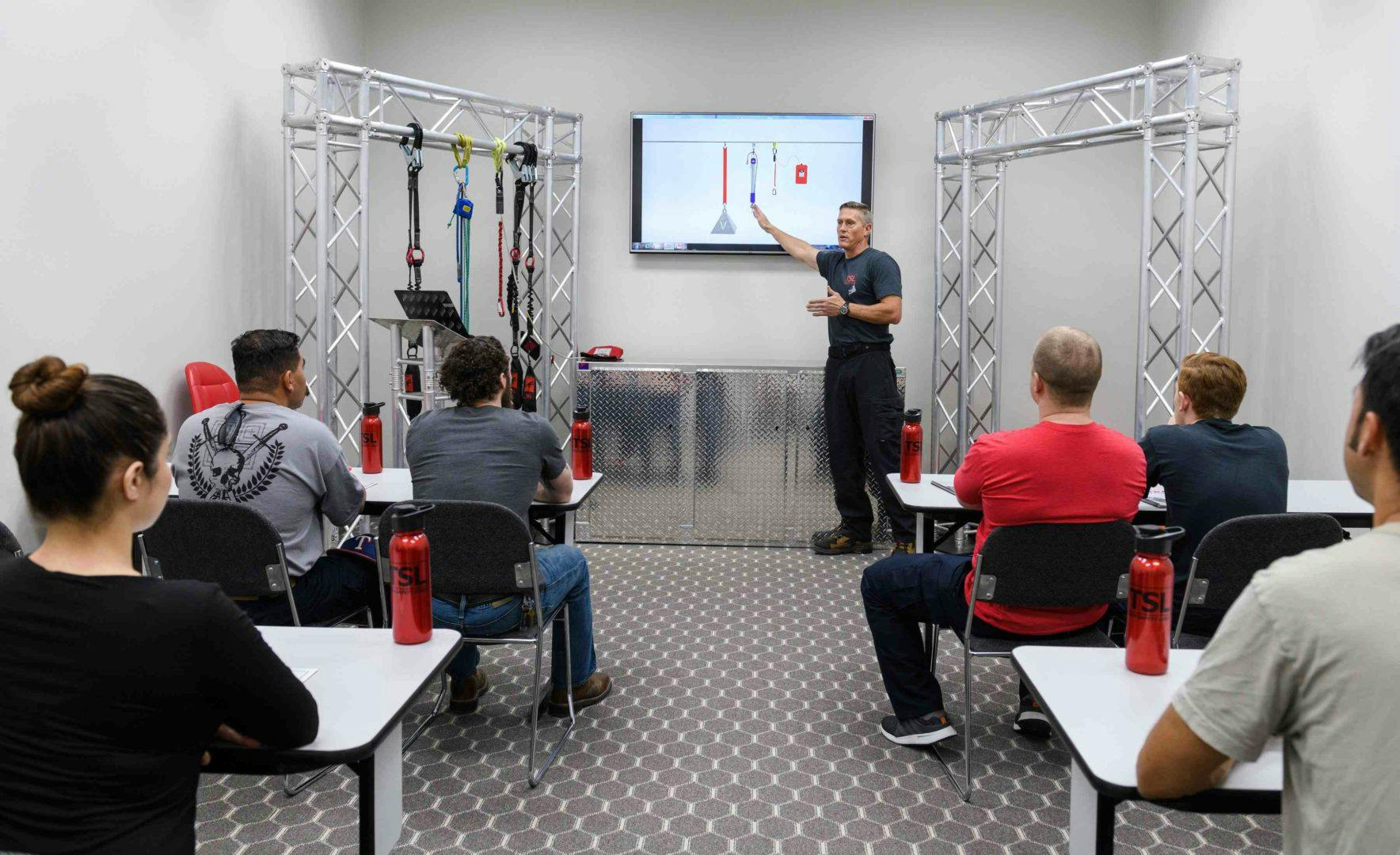 Train With Real Emergency Responders
Tech Safety Lines' trainers are fire fighters, EMTs, and members of Urban Search & Rescue. These rescue experts bring real life experience to the TSL training curriculum. Students walk away with a holistic understanding of emergency environments and the tools to ensure they get home safe day after day.
Meet Our Trainers